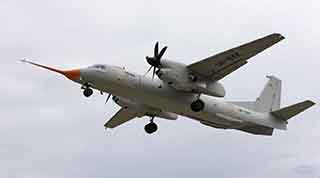 The Ukrainian official delegation includes acting rector of National Aviation University Volodymyr Isayenko, Minister of Industrial Policy, as well as deputy minister of foreign affairs, deputy heads of the State Service for Emergency Situations, the State Aviation Service and the State Space Agency, and the heads of the largest companies of the national aerospace industry visited International Paris Air Show LE BOURGET 2017.
"National aviation is not inferior to world standards and competing adequately on the world market of aircraft construction.
Innovative An -132D impressed the participants of the International Paris Air Show LE BOURGET 2017, having performed its first demonstration flight in the framework of the exhibition" – underlined Volodymyr Isayenko in his speech.
Other Ukrainian enterprises-participants will also be represented at the International Paris Air Show, most notably: SJSHC "Artem", JSC "NPO"Kyiv Automatics Plant", JSC" Plant "Mayak", SC "Kharkov machine-building plant" FED "SE" Zaporozhye Machine-Building Design Bureau "Progress" named after AG Ivchenko" and UOP exporters GC "Ukrspetsexport "and SE DHZIF" Ukrinmash".
Back to news
To main page